Anglais seulement
The Weisgarber Legacy 20 Years On
By Karen Suzanne (Weisgarber) Smithson.
As the old, serrated-edged computer paper pumped through the printer the day my father died, I watched with amazement as his life reappeared in front of me, his memoirs and correspondence now filling stacks of pages on his desk. As it turned out, they were just the beginning of a string of posthumous gifts that have kept my Dad close to me these past twenty years.
That last day of December, 2001 was the day I embarked, well into middle age, on my own life's work, the cataloguing of Elliot Weisgarber's huge output of musical compositions, transcription of his manuscripts into printed format, finishing his unpublished book Shakuhachi: the Voice of Nature, editing his memoirs and, just in this past year, beginning work on a biography.
So far, two of these five projects are complete. A catalogue of Weisgarber's compositions was finished in November 2002 just shy of the first anniversary of his death. The Shakuhachi book was completed and published in a limited edition in 2019. The other projects are longer term and continue apace, the transcription of his manuscripts having consumed most of my time over the past two decades.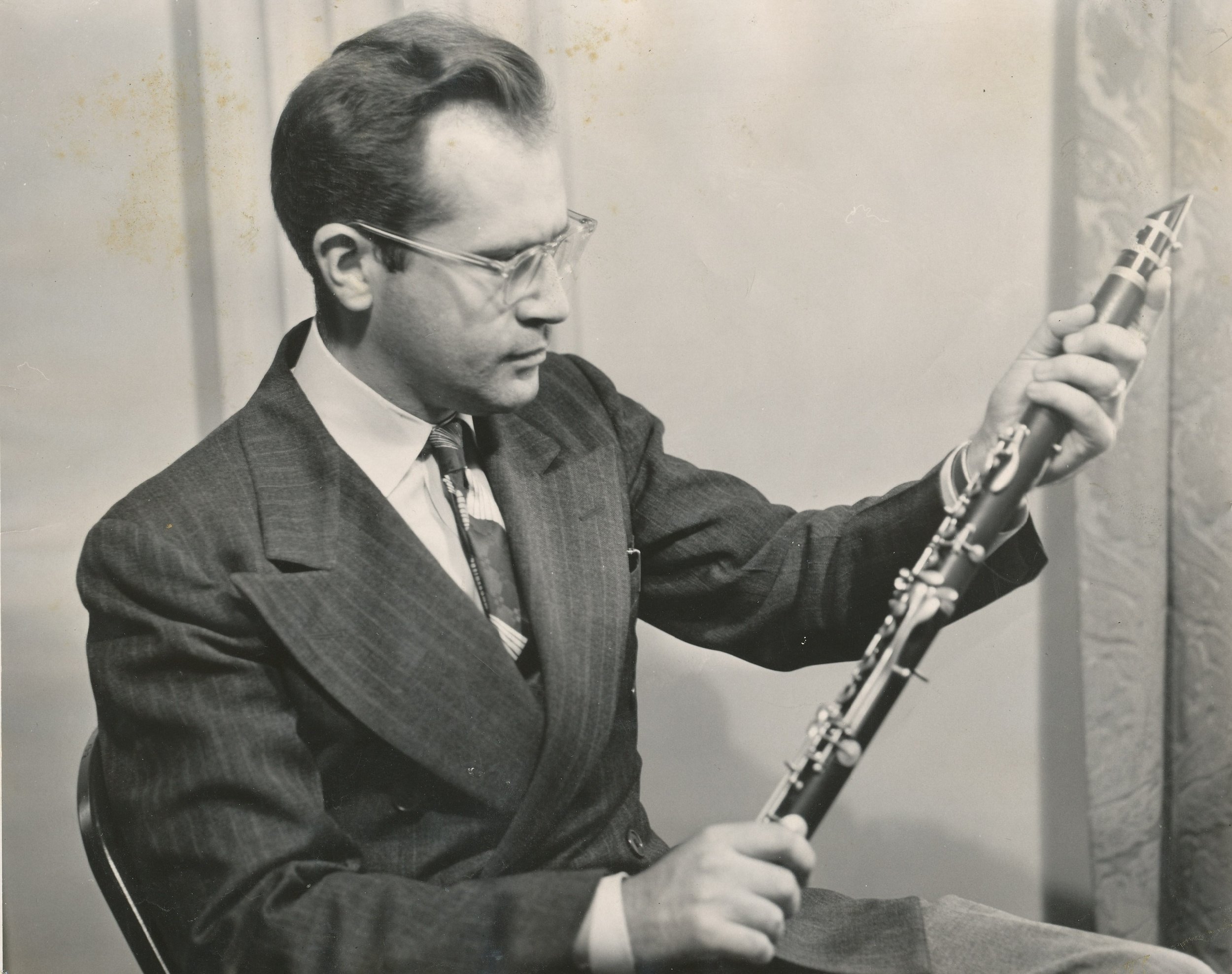 Dad stored his manuscripts at home on shelves that lined the narrow basement hallway between his studio and the furnace. I set up "shop" in the studio. Whenever a transcription was finished I sent it to the National Office of the Canadian Music Centre while the original was boxed up for storage and reference at the Archives of the University of British Columbia. When my husband, my mother and I moved to Kelowna in 2006 the scores not yet transcribed were packed into six large, fruit boxes and transported to our new home where the work has continued. Today, there is only one, slightly overflowing box of scores left to be done.
In addition to being supplied with digitized replacements for scores already in its catalogue, the CMC now houses many more Weisgarber works than it did in 2001. Dad (I'll call him "Elliot!") wrote some of his most beautiful and powerful music in the last few years of his life none of which had been submitted to the Centre. Always anxious to start a new project, Elliot didn't always "get around" to submitting a piece he'd just finished, or even completing intended revisions that are clearly marked on the personal copies of his rehearsed scores. Accordingly, in many cases, I had to complete his work, the nearness of his "ghost" having come in handy more than once! (For a partial list of works in the CMC online library, see the end of this article.)
One example of the "thinness of the veil" occurred while transcribing his String Quartet No. 2. From the outset, I was besieged with inexplicable technical problems, computer crashes and impossible page-turns. Finally, through various "sleights of hand," I managed to produce a set of parts that looked more or less playable. Since the Quartet was a never-performed work from the 1940s, I prevailed upon our dear friend the late Hans-Karl Piltz to arrange a reading session. "Uncle Hans" was my father's biggest fan and most constructive critic so I knew that whatever he had to say would be the real deal. A few weeks later I received his assessment: "This is not your father's finest work. I think it might be wisest to leave it in the archives where it can be studied as an example of a stage he passed through en route to maturity!" I later discovered the String Quartet on a misfiled (by me) listing of works Elliot had "removed from circulation." My father had obviously been trying to get my attention. The Quartet went to the archives!
The works that have found their way to the CMC since his death illustrate a cross-section of Elliot's passions and inspirations which include, but far exceed, the Asian influence for which he was most well-known. Above all else, Elliot had the heart of a poet. Although he hated labels, he identified himself as a "lyric" composer. He was a devotee of the natural world, an inveterate traveler and voracious reader who enthusiastically submerged himself in wherever or whatever he had found to inspire him.
One of the loveliest consequences of my work has been restoring contact with people I had not seen in many years who had been instrumental in the creation and performance of the music I was transcribing. The last two listings here involving harp are a case in point. I could not have produced the new editions of these works without the assistance of Rita Costanzi for whom both pieces were written.
Among the many new editions of Elliot's works already housed at the CMC are Musica Serena, "as approachable, touching and lovely as Barber's Adagio for Strings. …" (Clive Keen, The Citizen, Prince George, B.C., re: performances on Jan. 27/28, 1996 by the Prince George Symphony Orchestra) and the String Quartet No. 6. which won this enthusiastic comparison:
". . . if this work is typical, Weisgarber is more 'modern' than 'contemporary.' He is conservative for his century in the way Samuel Barber was. And his music gains audience appeal for it. His strategy of drawing on folk music, Asian instead of European, is the same one that earlier 20th-century composers like Stravinsky and Bartok used so effectively to find new material."( Jacob Stockinger, The Capital Times, Madison Wisconsin, Mon. Feb. 15, 1982, re: performance by the Pro Arte Quartet).
Weisgarber's music has, perhaps, gained a reputation for being difficult, and, to be sure, much of it is. But a surprising number of works playable by less experienced musicians now feature in the collection as do works which were written especially for students. These include a set of Three Teaching Pieces for elementary piano students. Originally a set of four, one of the short pieces ("Slumber Music") was removed from the set to be included in Book 5 of "Horizons," the New Conservatory Series published by the British Columbia Conservatory of Music in 2010.
Toward the end of his life a small number of Elliot's pieces were published, all of which are now distributed by The Wiltshire Music Company of Massapequa, New York (www.wiltshiremusic.com).
Amongst others, these include his well-known Miyako Sketches for Flute and Piano, Fantasia on 'Down Ampney' for Flute and Organ and a volume of selected etudes from 32 Concert Etudes for Clarinet.
Composers never really die until their music is played for the last time. The existence of the CMC ensures that there never will be a last time.
In April 2017, the CMC presented a Celebration concert of Elliot Weisgarber's music as part of their debut Legacy Composer series in the newly opened Murray Adaskin Salon.
And in the Fall of 2020, CMC BC created their first-ever online composition workshop for emerging composers in response to the pandemic, titled the Elliot Weisgarber Workshop. It was led by composer-mentor Edward Top in collaboration with Nicole Ge Li and Corey Ham's innovative PEP Piano and Erhu Project. The workshop explored cross-cultural approaches to composition inspired by Weisgarber's breakthrough explorations of Japanese instruments and idioms. Following the workshop CMC BC produced a series of music videos of works created during the workshop, which are now available online.
If you've never browsed through the listing of Weisgarber's works on the CMC website, or haven't done so recently, please let me encourage you to have a look. Click on "W" then scroll down and click on "Weisgarber, Elliot." Then click on "Works."
When I began this project my decision to give priority to the transcription of Elliot's manuscripts was an easy one. I was encouraged, not only by the nudgings of my father's ghost, but by the recollection of a conversation I had had some years earlier with a well-known and much respected Vancouver pianist who loved Elliot's music but didn't care for reading manuscript. Today she would find her enjoyment of playing his compositions greatly enhanced.
My heartfelt hope is that, going forward, the increased accessibility of Elliot's catalogue will encourage others to delve into the unique and fascinating collection that is his legacy.
A few examples of the dozens of scores that have been added to the CMC's catalogue of Weisgarber holdings over the past twenty years illustrate his eclecticism:
Ama Dablám (solo piano; 1994) Written as the test piece for the 1994 Canadian Music Competition, its inspiration was a peak in the Himalayas.
Canciones de Amor, del Sur y del Mar (soprano & piano; 1996) fifteen songs in two volumes, text by the Chilean poet Pablo Neruda; in Spanish; (soprano & orchestra; 2000) six songs from the earlier collection, orchestrated; In 1993 Elliot chanced upon a volume of Neruda's poetry in a bookstore while on vacation in Puerto Rico. He fell in love with it instantly, enrolled in a Spanish language course and spent the next several years immersed in the culture of Latin America.
A Chilcotin Pastorale (chamber orchestra; 1971) adapted from Weisgarber's score for the 1971 CBC Radio series "Illahee Shanties" marking the 100th Anniversary of British Columbia's entry into Confederation (my latest submission to CMC; not yet catalogued at time of writing)
Colloquies for Flute & Orchestra (1996) The first movement is a tribute to the great American composer Howard Hanson, Elliot's composition teacher at Eastman; the second movement is based on the famous American folksong "Shenandoah."
Continent's End (soprano & piano; 1997) text by California poet Robinson Jeffers; No other poet (with the possible exception of Jeffers' associate George Sterling) had such an impact on Elliot's life.
In Country Sleep (tenor, clarinet, violin, viola, bass, piano; 1956; tenor & chamber orchestra; 1962) poetry by Dylan Thomas; Written as a gift for my 2nd birthday this work welds together the fears and hopes for their young daughters of both poet and composer.
Kioku, formerly "Journeyings and Memories" (2001) for chamber orchestra; Elliot's last completed work is an orchestration of his 1969 piano pieces A Japanese Miscellany, a personal salute to the spiritual bond he had had with that culture.
Music in Memory of Andrei Sakharov (1990) flute, viola, cello, piano; a testament to Elliot's concern with politics and social justice.
Sextet (1957) 2 violins, 2 violas, cello, bass; or string orchestra
Songs of Nature and Love (soprano & piano; 1997) text by Thomas Hardy; Elliot had an almost mystical relationship with the work of this poet.
Three Pieces for Flute and Piano (1954)
Two Westcoast Carols (SATB Chorus; 1989) text by Margaret Fleming
Vier Lieder (soprano & piano; 1995) text by Rainer Maria Rilke; in German
Views of Mount Fuji (violin & harp; 1995) A re-setting of four pieces from his 1972 Six Miniatures After Hokusai for violin and piano.
A Winter Day's Journey (soprano, English horn & harp; 1995) ; text in Japanese;