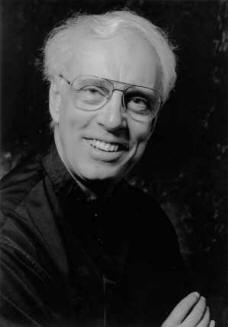 We are saddened by the news that CMC Associate Composer Sydney Hodkinson passed away. Active as a composer, conductor and mentor in many musical spaces, he is remembered for his creativity and camaraderie. 
Hodkinson was born in Winnipeg, Manitoba in 1934, and would go on to receive his Bachelor and Master of Music Degrees from the Eastman School of Music.  His composition studies began with Louis Mennini and Bernard Rogers at Eastman, and continued at the Princeton Seminars with Elliott Carter, Roger Sessions, and Milton Babbitt. Hodkinson received his Doctor of Musical Arts Degree from the University of Michigan in 1968, studying with Leslie Bassett, Niccolo Castiglioni, Ross Lee Finney and George B. Wilson. Hodkinson also studied briefly with Benjamin Britten and Luigi Dallapiccola. 
Hodkinson had an illustrious and varied career as both a conductor and composition teacher.  Hodkinson taught at the Universities of Virginia, Ohio and Michigan and, during 1970-72, served as artist-in-residence in Minneapolis under a grant from the Ford Foundation Contemporary Music Project. He joined the faculty of the Conducting and Ensembles Department of the Eastman School of Music of the University of Rochester in 1973, directing the Eastman Musica Nova Ensemble and the Kilbourn Orchestra during his tenure. During l984-86, he served as Meadows Distinguished Professor of Composition at Southern Methodist University and in 1991 was Visiting Professor of Composition at the University of Western Ontario. In 1995, Hodkinson assumed teaching duties in the Composition Department at the Eastman School until his retirement in January of 1999.  
Musical engagements continued with Hodkinson conducting the New Music Group at Oberlin College (2001), serving as Visiting Professor of Composition at Indiana University (2002), Duke University (2003), and in 2004 accepting the Almand Chair of Composition at Stetson University, DeLand, Florida. Hodkinson was also a beloved composition teacher and conductor of the Contemporary Ensemble at the Aspen Colorado Music Festival and School. 
Hodkinson was a prolific composer producing over 250 works for a variety of instruments, ensembles, and contexts—most can be found in the CMC library catalogue including many educational works. Hodkinson's composing garnered a multitude of awards, as well as critical and popular acclaim that we list on his CMC profile page. 
We share our deepest condolences with his family and friends.