Space Rental
Chalmers Performance Space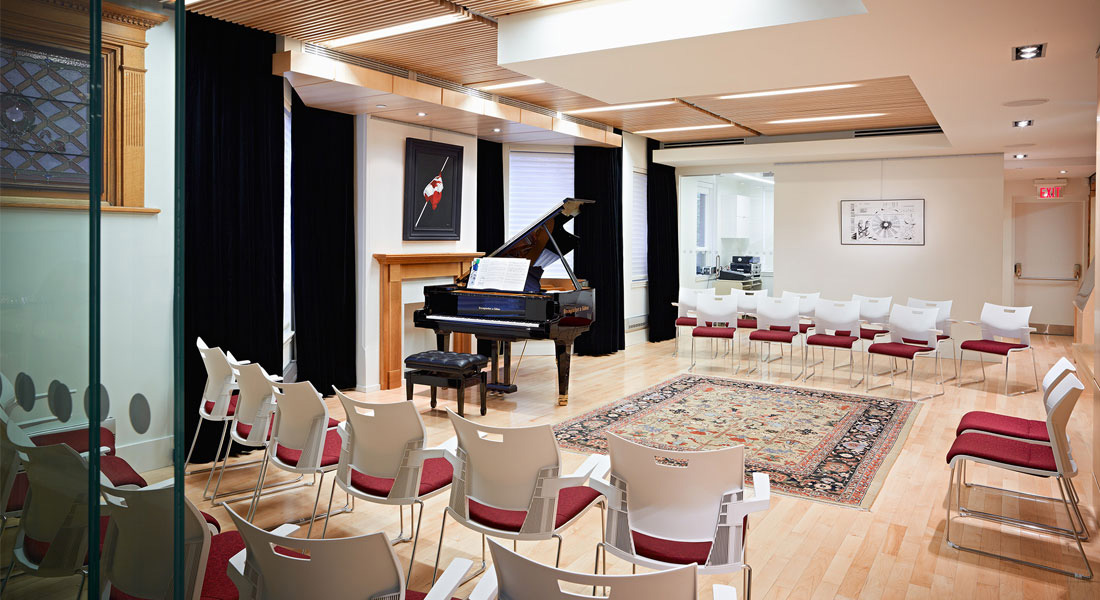 Perfect for your next concert, seminar or meeting!
The Canadian Music Centre's Chalmers Performance Space at 20 St. Joseph Street in Toronto hosts a variety of CMC programming, and it also serves as a venue for new music performers, composers, and other organizations from across Canada and around the world.
Our multi-purpose space is available for rehearsals, recordings (demo), concerts, exhibits, launches and community uses such as seminars, workshops, and town hall meetings.
The performance space and lounge are located on the main floor and there is an additional meeting room located on the second floor.
The performance space is 596 square feet and seats 50 people. The space boasts a 7′ Steingraeber and Sohne concert grand piano.
The lounge is 195 square feet and acts as a service bar area, often ideally combined with the performance space.
The SAC-CMC Writers Room is a quiet work space ideal for studying, and composing/songwriting. The room can be used by 1-3 people at a time. Located on the main floor, the Writers Room includes studio monitors, a full sized keyboard, acoustic guitar, and desk.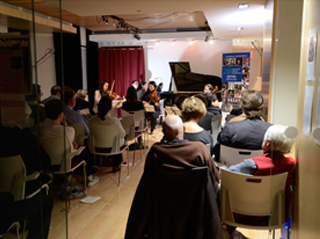 Accessibility:
An accessible, gender neutral washroom is adjacent to the performance space. There are additional gender neutral washrooms on the second floor, although these are not fully accessible. All floors of the CMC have elevator access. The main entrance to the building is accessed through two sets of stairs on the front lawn. Street-level access is available by a path  to the right of the main entrance—visitors must buzz for entry.
New Rental Rates and Bookings:
* please note that our rates have changed from last year
For bookings inquiries and more information contact [email protected]
Sponsorship:
For projects aligning with our mandate, sponsorship are available to help with rental fees.
Please contact [email protected] for more information
What's available:
Comfortable and inviting spaces
7' concert grand piano from Steingraeber and Sohne
Chairs
Music stands
Tables
Stereo PA system
Audio recording equipment
HD video camera system
Livestreaming capability
Rod based art display system
Mondopad (moveable 55" multi touch tablet for interactive collaboration and video conferencing)
Wheelchair access and washroom
Also available, above and beyond the rental rate:
Special piano tuning
Front of house and box office staff
Audio technician
Video production team
IT technician
Printing and promotional services
Special occasions permit and bar service
If the rental includes the use of the piano, an additional $125 fee is applied for piano tuning. The potential renter can choose to opt-out of this fee, however we cannot guarantee the piano will be tuned prior to your event. Please be aware that tunings will require advance notice of two (2) weeks prior to the intended booking.
Availability:
Seven days a week – 9 am to 11:30 pm
Check availability of the Chalmers Performance Space or browse future events on our Events Calendar.
Canadian Music Centre
20 St. Joseph Street
Toronto, ON
M4Y 1J9
Vancouver
Murray Adaskin Salon
The Murray Adaskin Salon is a cultural jewel in the heart of downtown Vancouver with a street-level entrance on Davie Street between Howe and Hornby.
Montréal
L'Espace Kendergi
L'Espace Kendergi, located in CMC Quebec's office in Montréal, hosts concerts, conferences, workshops and various events in an intimate atmosphere.