Anglais seulement
On December 16, 2022, Diana McIntosh, a playful and creative spirit, and prominent Canadian musician, composer and performer, moved on to explore new adventures. Diana was predeceased by her sisters, Ann Worthington and Betty Lowes, and by her beloved husband and enthusiastic 'roadie', Grant McIntosh. She is survived by nine nieces and nephews.
Diana and Grant married in 1957. Together they enjoyed hiking, skiing and mountain climbing in her cherished Rockies. These adventures formed wonderful memories that Diana often shared with her friends and in her music.
Named a « National Treasure » by Bravo TV and profiled by CBC TV, Diana had a long, multi-faceted career that included many performances in Canada, United States, Europe and Kenya.
With a Bachelor of Music in 1972 from the University of Manitoba, Diana kept in close affiliation with the University of Manitoba – initially in Continuing Education and later as Composer-in-Residence. She also taught creative workshops in other universities and conservatories in Canada, USA and Europe and she spent considerable time over the years in residence at the Banff Centre for Arts and Creativity. She received many commissions including three for orchestral works from the Winnipeg Symphony Orchestra for its New Music Festivals: 9 Foot Clearance, Four-on-the-Floor and Through the Valley: Milgaard. This work for orchestra with pianist/narrator, based on the wrongful incarceration of David Milgaard, has been performed by seven Canadian orchestras. International composer and Pulitzer prize recipient Michael Colgrass, on hearing a broadcast, proclaimed it « a deeply moving work, brilliantly narrated, and a triumph of the human spirit – the best piece for narrator and orchestra since Aaron Copland's Lincoln Portrait ».
While Diana could be serious and profound, there were always humourous counterpoints such as 'Composition for Spoken Text and Food Processor' and performing in unusual locations such as aviation museums, planetariums, The Royal Canadian Mint, and equestrian centres. In more recent years, Diana became known for one-woman interdisciplinary creations exploring voice text in an animated theatrical style.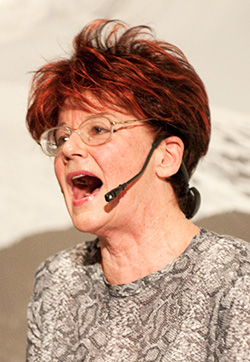 Diana's love for contemporary music inspired her to found Music Inter Alia (with Winnipeg-born composer Ann Southam), western Canada's first contemporary music series. With her characteristic wit, Diana described the series as « contemporary music for people who don't like contemporary music ». As Artistic Director over 14 years, she attracted substantial, enthusiastic audiences, worked with and inspired many other musical artists and, with the assistance of Canada Council and the Manitoba Arts Council, commissioned 42 new works from composers across Canada. Many concerts were broadcast by CBC Radio, and her music was included on numerous CDs and videos. In 1990, she joined with two other Winnipeg new music groups to form GroundSwell which champions new music to this day. She was co-Artistic Director and also, on occasion, the Board President.
Diana and Grant loved their Kingston Crescent home of 60+ years overlooking the Red River, where « home » concert presentations always provided something new and exciting from Diana or one of her cherished musical colleagues. Diana loved nature, and always enjoyed her walks in the neighbourhood, St. Vital Park, or Fort Whyte Alive, usually with her favourite ice cappuccino in hand.
Diana was raised in the Christian Science faith (as was Grant) and she remained an active and dedicated member until her passing, serving in many offices of the First Church of Christ Scientist in Winnipeg. Her faith and concept of God were the basis for the values and principles that guided her life.
Diana was always very grateful for the care and support she received from many neighbours and friends, especially Glen Simpkins and Martha Vargas.
An informal reception to celebrate the extraordinary life and accomplishments of Diana McIntosh will be held on Sunday, February 5 from 2:00 p.m. to 4:00 p.m., at the University Women's Club (54 West Gate), including a brief program at 3:00 p.m. of remembrances and a live performance of one of Diana's compositions.
Donations, in lieu of flowers, may be made to a charity of your choice or alternatively, plant a Memorial Tree via the website of Funeral Director Richard Rosin: richardrosin.ca. Condolences and memories may also be posted on that site or at the Free Press website: passages.winnipegfreepress.com