Celebrating excellence in Canadian contemporary music
January 31, 2020 TORONTO ON  – For Immediate Release
The Canadian Music Centre is thrilled to announce that our record label Centrediscs, is nominated for a 2020 JUNO Award in the category of Classical Recording of the Year: Vocal/Choral for the album Summer Night by The Canadian Art Song Project. Also, works by Bekah Simms and Vincent Ho featured on Centrediscs, are nominated for Classical Composition of the Year.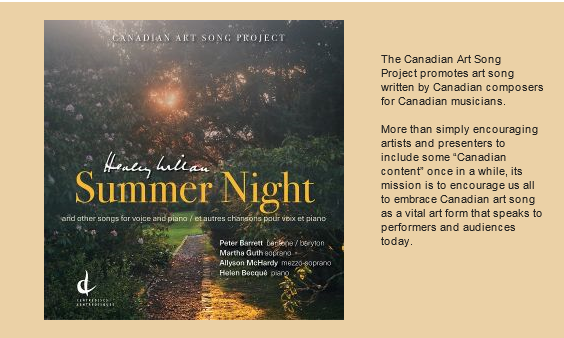 The Canadian Music Centre congratulates our CMC Associate Composers who were nominated for Classical Composition of the Year Award:
Classical Showcase Concert
The Canadian Music Centre will co-present along with CBC Music the twelfth annual JUNOfest Classical Showcase concert on Saturday, March 14th at Convocation Hall in Saskatoon SK. Details about the event, including the artists who will be showcased, will be released shortly.
For the full list of the 2020 JUNO Awards nominees, click here: junoawards.ca/nominees
About The Canadian Art Song Project  
In an effort to revive the existing art song repertoire and to develop new vocal works for Canadian professional artists, tenor Lawrence Wiliford joined with pianist Steven Philcox and together founded the Canadian Art Song Project (CASP) in 2011.  This is the sixth recording of The Canadian Art Song Project. It is entirely devoted to songs by Healey Willan, with Canadian vocalists baritone Peter Barrett, soprano Martha Guth, mezzo-soprano Allyson McHardy and pianist Helen Becqué.
About CMC Centrediscs
Centrediscs is the Canadian Music Centre's award-winning record label dedicated to showcasing the talent of musical creation in Canada.  Centrediscs is the only recording label that exclusively offers 100% Canadian composers. The label was launched in 1981. Since then, many important Canadian contemporary works have been recognized with awards from the JUNOs, East Coast Music Awards, and the Western Canadian Music Awards.
About the Canadian Music Centre (CMC)
The Canadian Music Centre is a catalyst that connects you to the ever-evolving world of musical creation in Canada through performance, education, and promotion. The CMC provides unique resources for exploring, discovering, and performing Canadian music. We are passionate about nurturing a musical community that honours our legacy and supports the professional development of Canadian musicians and composers.
Connect with the Canadian Music Centre at cmccanada.org, on Facebook (Canadian Music Centre) and on Twitter (@cmcnational).
– 30 –
For further information, please contact:
Holly Nimmons, Director, Development & Communications
Phone: 416-961-6601 x 301
Email: [email protected]
__________________________
About the Composers
Toronto based composer Rose Bolton is well established as a composer who creates and envisions new sounds in the areas of classical and electronic music, as well as music for documentary films. Bolton's works range from orchestral, chamber and vocal music to electro-acoustic and ambient electronic. She has received numerous commissions and prizes, including the 2006 Norman Burgess Fund award, and the Toronto Emerging Composer award. Her works have been performed by major ensembles across Canada. She has also composed full scores for two CBC television documentaries, The Disappearing Male, winner of the 2008 Gemini Award for Best Science and Technology Documentary; and Surviving The Future.
Vincent Ho is a multi-award winning composer of orchestral, chamber, vocal and theatre music. Currently Artistic Director of Calgary's Land's End Ensemble and New Music Advisor to the Calgary Philharmonic Orchestra, this is his third JUNO nomination. During a visit to the Arctic, Ho spent days observing the landscape, and developing a spiritual relationship with the environment. Ho's "brilliant orchestration creates vivid pictures drawing on the full resources of the modern orchestra" (The Whole Note). He is the 2019 recipient of SOCAN's "Jan V. Matejcek Award".
Raised in Vancouver BC, Jared Miller studied at the University of British Columbia before becoming a Doctoral Fellow at the Juilliard School. He is the recipient of the SOCAN Award for Young Composers. In 2019, his composition Under Sea, Above Sky was premiered by the National Youth Orchestra of Canada.  He has worked with many ensembles in North America and internationally, including the Toronto Symphony Orchestra, the Juilliard Orchestra, the Detroit Symphony Orchestra and the New York City Ballet's Choreographic Institute.
Originally from St. John's NL, Bekah Simms has been heralded as "nuanced and complex" (NOW magazine) who is "redefining classical music" (Ludwig Van). Her music has been featured across Canada, in over a dozen American states, Italy, France, Germany, Austria, Lithuania, and the UK and interpreted by a diverse range of top-tier performers including Esprit Orchestra, Continuum Contemporary Music, the Victoria Symphony Orchestra, the Madawaska Quartet, TorQ Percussion Quartet, and Duo Concertante. Simms has received numerous awards, including the 2019 Barlow prize and the 2018 Karen Kieser Prize in Canadian Music.
Serbian-born composer Ana Sokolović has lived in Montréal for two decades, where she teaches composition at the Université de Montréal. Her work is suffused with her fascination for different forms of artistic expression. Sokolović is prominent in the Québec, Canadian and international contemporary music scenes, and has earned a steady stream of commissions and awards. She recently received a prestigious commission from the Canadian Opera Company for a main-stage opera that will be premiered in 2021.
Click here to learn more about Centrediscs and to buy albums